JOIN LIVE:
VIRTUAL CLASS ETIQUETTE:
Please sign on 5-10 minutes before class time, Video must be on for safety
CLASSES ARE MONITORED; ANYONE MORE THAN 5 MINUTES LATE WILL NOT BE ADMITTED
IF YOU ARE INTERESTED IN A SMALL PRIVATE GROUP VIRTUAL CLASS OR A ONE ON ONE SESSION CONTACT FELICIA VIA felicia@connectedwarriors.org
USE MEETING ID: 864 8100 0830
CLASS UPDATES:
NO CLASS 4/4 AND 4/11
Beginning June 2023 this class will be one Saturday per month.  June's class will be on 6/10 at 4:00pm EST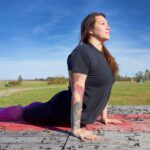 TUESDAYS CW MINDFULNESS CLASS W/FELICIA @ 8:00PM EST/7:00PM CST/5:00PM PST
Meeting ID: 820 7407 6346 Passcode: 274681
This class incorporates gentle movements, breathing, meditation and a short round of consciousness (yoga nidra).  45min
CLASS UPDATES:
ON HOLD; PLEASE CHECK BACK FOR UPDATES

CW also offers virtually Trauma-Conscious Yoga to Dove Transplant Participants
For more information about Dove Transplants for Veterans go here:https://www.dovetransplant.org
FOR RECORDED CLASSES PLEASE GO TO OUR YOUTUBE CHANNEL
For Empowered Yoga Classes (MST)
Go to Playlist:
For CW Chair Yoga Classes
Go to Playlist:
**DONATING BY CLICKING THE "DONATE" TAB OR THROUGH VENMO**
*INNER STRENGTH: This is our "core" Connected Warriors class. It involves postures, meditation, and breathing while emphasizing the mind-body connection.
*IF YOU ARE INTERESTED IN HOSTING A WEEKLY VIRTUAL CW CLASS PLEASE CONTACT FELICIA ROBINSON VIA EMAIL felicia@connectedwarriors.org
https://youtu.be/0VO4u42ZqdU